Commercial
Here is a few examples of our commercial clients who use our services…
Commercial Block Paving Services
Installations, repair and refurbishment
of hard surfaces throughout Essex and the East of England. Our commercial team are specialist paving contractors with in excess of 25 years knowledge, experience and a proven history as installers on commercial contracts for the installation, repairing and servicing of all paving and block paving.
Facilities Management
Health Trusts and Care Homes
Insurance Companies
Managing Agents
Schools and Colleges
Estate Managers
Local Authorities
Construction Companies
Independent Companies
Sports Centres
Sealing
You may want to consider block paving sealing to:
Help prevent moss, algae and weed growth
Protect from common spillages such as engine and fuel oils
Stabilise joint sand to help prevent its erosion and mining by invertebrates
Reduce efflorescence
Provide surface UV protection and added weather resistance
Enhance colour
Allow for the ease of future cleaning
Undertake Your Commercial Block Paving Project?
The expert team at Block Paving Maintenance can create tailored solutions to suit your commercial paving installation, repair or maintenance needs. We can provide expert advice with extensive design and planning, coupled with an impressive range of paving materials, products and equipment.
Through diligent planning and consultation, we reduce the inconvenience to your business, staff and customers to an absolute minimum throughout the entire installation or maintenance process. We will also provide you with a comprehensive works information pack, which outlines the steps we intend to take to complete the project and expected start and completion dates.
As a commercial contractor, we understand your health and safety requirements. To ensure each project meets your needs, regardless of whether it's a small repair or a major installation, we include written schemes of work, method statements and risk assessments for all the tasks in hand.
We provide a dedicated site contact to manage your project. Your designated member of staff will liaise with you directly to ensure maximum efficiency at all times. The same experienced, Health and Safety trained and certificated work force will stay with your project through to its full completion.
We can work 24 hours a day 7 days a week to provide minimum disruption to your premises. We offer an immediate call-out service to all our clients, which enables us to affect any necessary paving repairs or essential maintenance for all future emergencies that could otherwise have an adverse effect on your business.
New Commercial Installations
Block paving and slab work is the choice of civil engineers and developers and we can provide paving installations for all types of commercial projects.
As installers with extensive experience, we provide tailor-made solutions from a wide range of traditional, contemporary, or cobbled block paving, slabs or natural paving stones, including permeable or sustainable urban drainage systems from leading manufacturers.
All products are fully backed with our comprehensive guarantee and materials warranty.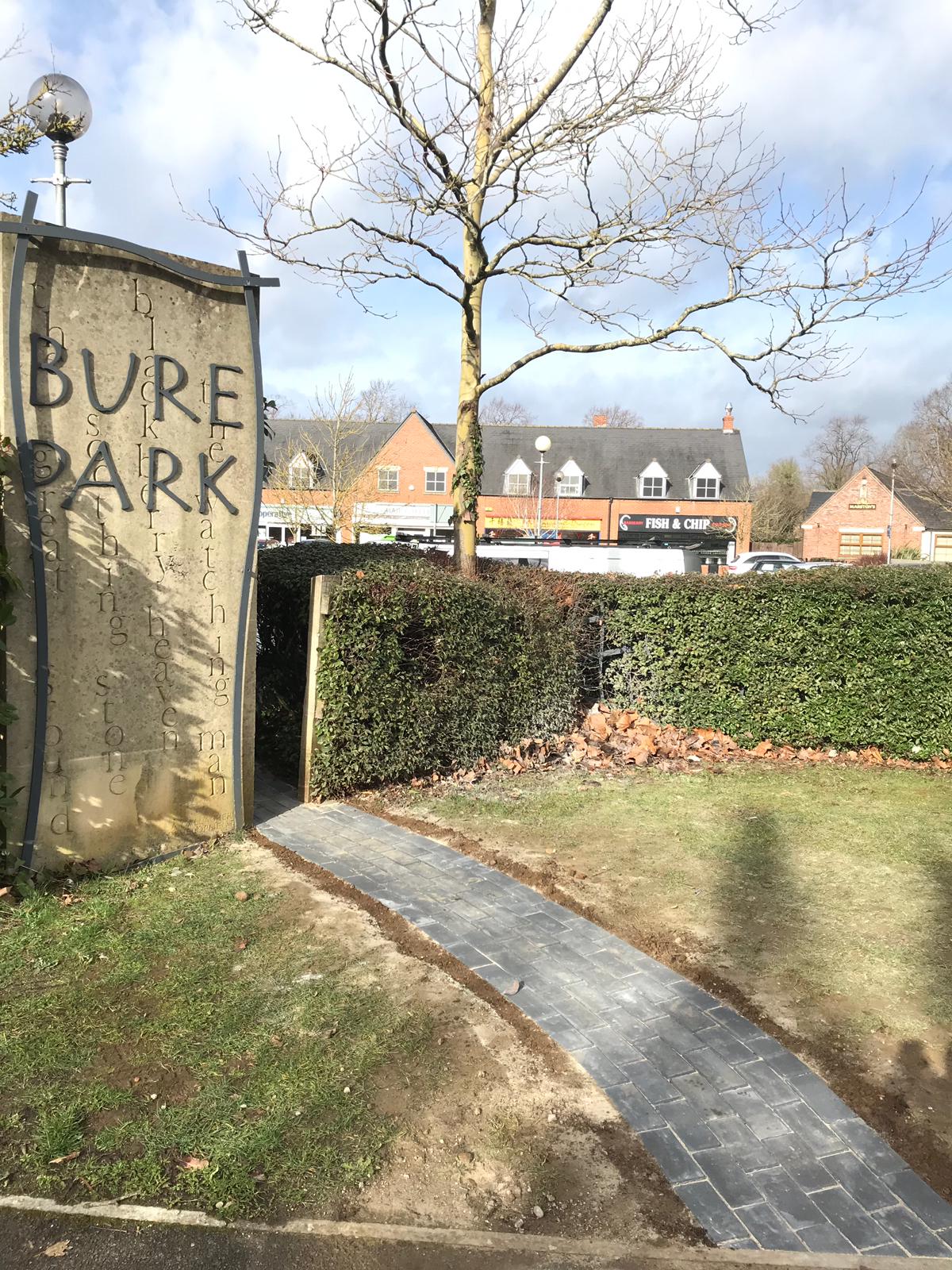 Repairs
Repairs to existing commercial paving can hugely reduce your costs in compariso to new paving installations.
We can help keep disruption to the minimum and meet environmental targets while we're carrying out vital repair work on your block paving. All repairs are surveyed to establish the underlying cause of the problem and to ensure we provide you with the best and most cost-effective solution.
We offer an immediate response service, too, which enables us to promptly repair any health and safety issue.
We can repair and re-level any subsidence, sinking and water pooling for all block paving or slab work, and also restore drainage and soakaways to any specification.
We can remove trip hazards, tree roots and pest infestations, secure kerbs and edges, preventing paving spreading, and re-point slabwork, replace chipped cracked or damaged blocks, paving or slabs.
Lifts and Relays
Reusing existing materials and bases dramatically reduces costs and also helps to ensure we meet environmental targets.
We are experts at lifting and relaying block paving and slabbed areas.
Our meticulous planning will ensure we keep your business running with minimum disruption to you, your clients and staff. Our commercial surveyor can assess your paving and provide a number of tailored choices to meet your needs and financial constraints.
Retro-Fittings
Reduce your costs by tailoring existing areas.
We can rejuvenate and revive as fit for purpose any commercial area by the addition of new fixtures or fittings.
Bollards
Barriers
Railings
Gates
Speed Humps
Kerbing
Line Marking
Parking Areas
Road Signs
Commercial Block Paving Cleaning Services
Having block paving or slab work cleaned is an extremely cost effective way for you to upgrade the appearance of your commercial premises, eliminating health and safety concerns with slippery surfaces for clients, staff and visitors. Cleaning and service work can be scheduled to limit the disruption to your business.
Site Survey
Cleaning works
Replace jointing sand
As commercial contractors we clean:
Commercial yards
Car parks
Forecourts
Sports grounds
Sealing
Our sealing provides low maintenance protection to any commercial area or forecourt installed with block paving, slabwork, concrete or brickwork. We can restore, protect and re-colour tarmac and asphalt with a quality sealer. At Block Paving Maintenance we are trained in the specialist application of both polyurethane and acrylic sealers and professionally applying two or one coat systems. Price reflects quality when sealing – cutting corners and applying ineffectively is a false economy not found in our service. Our entire block paving sealing carries the confidence of an extensive guarantee.